News & Update > InterPlas 2017 – Machines > SHINI
---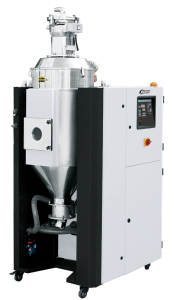 Shini "optical" compact dryers combine the function of dehumidifying, drying and two-stage conveying into one single unit, specified for the production of "optical class" products, such as lenses, LCD backlight panel, compact discs etc. They feature honeycomb rotor for dehumidifying, ensuring continuous and constant low dew-point. Under ideal conditions, it can provide lower than -40°C dew-point dehumidified air.  more…
---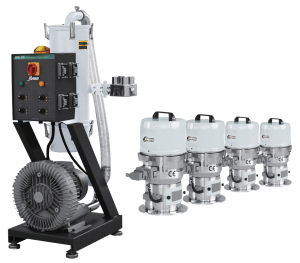 "One-to-Two or One-to-Four" Separate hopper loaders are designed and developed on the basis of original European separate-vacuum hopper loaders. They feature more functions, easy to operate, and convenient to install. This model, equipped with a high pressure blower and four SHR-U-S type European central vacuum hoppers, is applicable to four dehumidifying and drying machine (dehumidifying dryer "SDD") or one gravimetric blender "SGB" to process plastic materials. Besides that, it can also realize the "One-to-Two or One-to-Four" way of conveying materials to different molding machines or hoppers to greatly lower the cost.  more…
---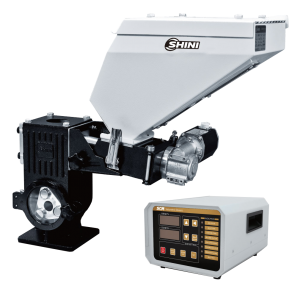 SCM series volumetric dosers are suitable for auto-proportional mixing of virgin materials, regrinds, mater batch or additives. A gear motor with gear ratio of 38:1 is coupled to a dosing screw of 12, 16, 20 or 30 mm (0.47, 0.63, 0.79 or 1.18 inch) in diameter to give a total of four models with output ranging from 0.1~110kg/hr (0.22~242.5lb). Double-color dosers is available for collocating with any two of single color dosers if required. Five components automatic mixing can be realized if customers adopt four-color dosers.  
more…
---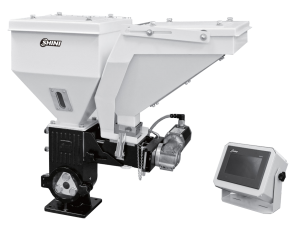 SGD series dosers are suitable for auto-proportional mixing of virgin, material, regrinds, master batch or additives. The motor with gear ratio of 38:1 is coupled to a dosing screw of 12, 14 or 16mm in diameter to give a total of three modles with the output ranging from 0.04~32kg/hr. Double color dosers can be assembled from two single color dosers according to customers, requirements. 
more…
---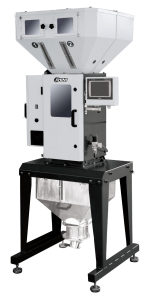 SGB series gravimetric blender can be used in the fields of injection molding machines, blow molding machines and extrusion lines for proportionally precise mixing of several types of material. This series machines adopt Becca levy PLC controller and latest ingredients calculation methods. The machine is controlled by an advanced microprocessor with a digital display that is simple to calibrate. The self-compensation and calibration function ensure accurate material dosing percentages. A high precision electronic weighing scale is used to ensure precise weighing of every batch and ensure accuracy to ±0.1%~0.3%. There are 8 models available to be selected based on various materials and throughputs. (This series are not suitable for powder and sheet pieces weighing)
more…
---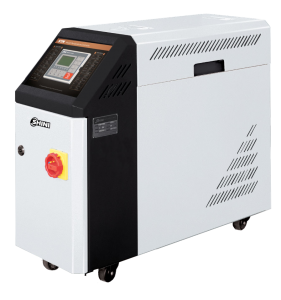 STM-WF series "Large Flow" water heaters are used to heat up the mold and maintain temperature. although they can be used in other similar applications. High temperature water from the mold is returned to the cooling tank and cooled by direct cooling. It is then pressurized by the high-pressure pump, sent to the heating tank and finally to the mold with a constant temperature. The HANYOUNG temperature controller can maintain an accuracy of ±0.5°C.  
more…
---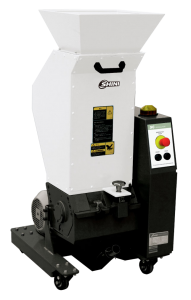 SG-16N/20N series low-speed granulators have paddle blades and staggered blades design for customer selection. They are mainly used for granulating sprues or rejects fed by pickers or belt conveyors beside the molding machines. They feature low speed, high torque, low noise and dust level, excellent quality and performance. Machines are built to comply with CE safety standards.  
more…
---
Exhibition special price valid untill end of September 2017
*For existing customer and registered visitors only