สินค้า > SHINI > ระบบแขนกลจับชิ้นงาน
---
TH / EN
SHINI – ระบบแขนกลจับชิ้นงาน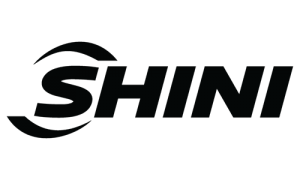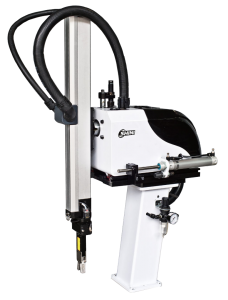 The SS series robot is designed for rapid and precise removal of sprue or runner from injection moulding machine, and place them into granulator for recycling. Simple product removal is applicable with optional vacuum generator and EOAT. Suitable for injection moulding machine under 250t clamping force.  เพิ่มเติม…
---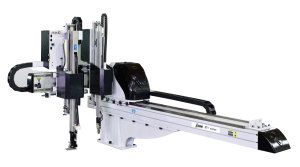 The ST1 Series robot is designed for rapid and precise removal of sprue and products from injection molding machine, and place them at desire locations. Standard and telescopic arm(s) are selectable according to the application of two plate mold, three plate mold or hot runner system. Stacking function provides 2 stop points in X and Y axis, multiple stop points in Z axis. Suitable for injection molding machine under 850T clamp force.  เพิ่มเติม…
---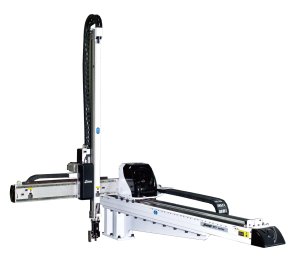 The ST3 Series robot is designed for rapid and precise removal of products from injection molding machine, and place them at desired locations. Standard and telescopic arm are selectable to cooperation with 2 plate mold or hot runner system. Capable of arranging stacking, quality checking and in mold placement. Suitable for injection molding machine under 3600T clamp force.  เพิ่มเติม…
---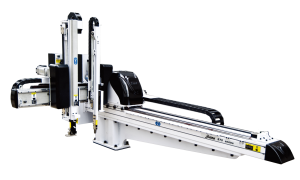 The ST5 Series robot is designed for rapid and precise removal of sprue and products from injection molding machine, and place them at desired locations. Standard and telescopic arms are selectable to cooperate with 2 plate mold, 3 plate mold or hot runner system. Capable of arranging, stacking, quality checking and in mold placement. Suitable for injection molding machine under 3600T clamp force.  เพิ่มเติม…
---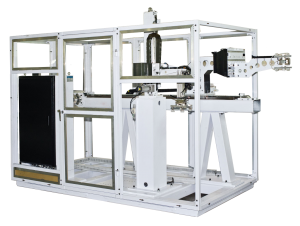 The SSE series robot is designed for extremely short cycle time of IMM less than 6 seconds and under 600T clamp force. The SSE series improve the production efficiency.  เพิ่มเติม…
---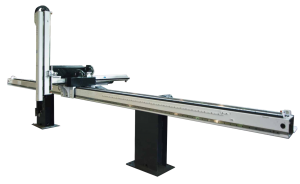 The SL3 series robot is designed for rapid and precise removal of product, sprue and runner from injection molding machine. It is suitable for 2-plate mold or hot runner system mold, and capable of arranging, stacking, quality checking and in mold placement.  เพิ่มเติม…
---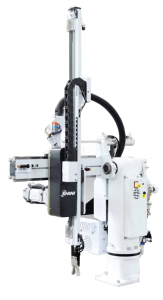 The SS1 series robot is designed for rapid and precise removal of sprue and runner from injection molding machine, and place them into granulator for recycling. Simple product removal is applicable with optional vacuum generator and EOAT. Suitable for injection molding machine under 250T clamp force.  เพิ่มเติม…
---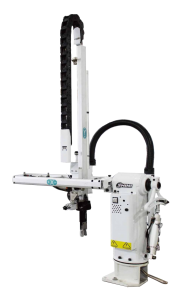 The SS-S1 series robot is designed for rapid and precise removal of sprue and runner from injection molding machine, and place them into granulator for recycling. Simple product removal is applicable with optional vacuum generator and EOAT. Suitable for injection molding machine under 250T clamp force.  เพิ่มเติม…
---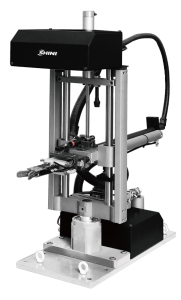 The SVS series robot is designed for rapid and precise removal of sprue and runner from vertical molding machine, and places them into granulator recycling.  เพิ่มเติม…
---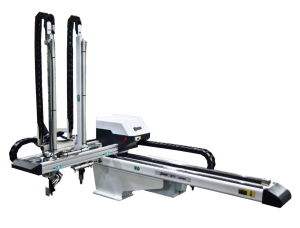 The ST1-S1 series robot is designed for rapid and precise removal of sprue and products from injection molding machine. Standard and telescopic arm(s) are selectable according to applications of 2-plate molds, 2-plate molds or hot runner systems. Multiple stop points in Z axis, convenient for package. Suitabl for injection molding machine with clamping force under 280 tons.  เพิ่มเติม…
---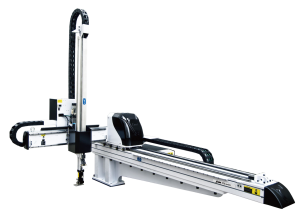 The ST2 series robot is designed for rapid and precise removal of sprue and products from injection molding machine. On arm and double arms, standard are telescopic arm(s) selectable according to the application of 2-plate mold, 3-plate mold or hot runner system. Multiple stop points in Z axis, convenient for package. Suitable for injection molding machine under 450T clamp force.
Y-axis servo suitable for singer short cycle time mold. Stacking function provides multiple stop point in Y1 and Z axis.
X-series servo is suitable for frequent mold application, easy to adjust crosswise stroke.
Stacking function provides multiple stop point in X1 and Z axis.  เพิ่มเติม…
---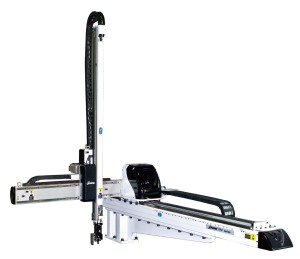 The ST3-S series robot is designed for rapid and precise removal of products from injection molding machine, and place them at desired locations. Apply to 2-plate mold or hot runner system. Capable of arranging, stacking, quality checking and in mold placement. Suitable for injection molding machine with clamping force under 300 tons.  เพิ่มเติม…
---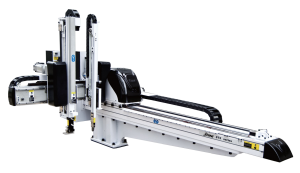 The ST5-S series robot is designed for rapid and precise removal of products from injection molding machine, and place them at desired locations. Standard and telescopic arm(s) are selectable to cooperate with 2-plate mold or hot runner system. Capable of arranging, stacking, quality checking and in mold placement. Suitable for injection molding machine under 300T clamp force.  เพิ่มเติม…
---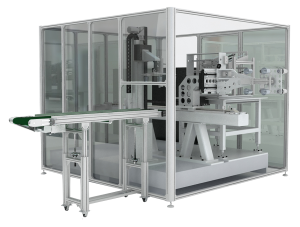 Suitable for injection molding machine under 450T clamp force. The system designed for single face mold with 1, 2 or 4 cavity. Place labels and take out products automatically and rapidly, cycle time is 4 to 6 seconds, improve the production efficiency and the product quality.  เพิ่มเติม…
---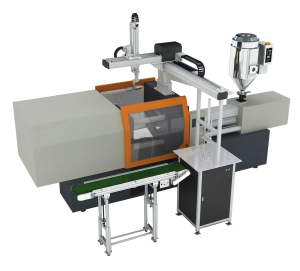 Suitable for injection molding machine under 450T clamp force. The system designed for single face mold with 1 or 2 cavity. Place labels and take out products automatically and rapidly, cycle time is 7 to 9 seconds, improve the production efficiency and the product quality.  เพิ่มเติม…
---
The Vertical Transport of SVT series are used for taking over the products of the robot, enhancing its efficiency and protecting operator's safety. This series can be connected with robot signals, and precise catch and protection of products. There is a filter and fast connection is provided to facilitate the operation. The vertical stroke can be adjusted according to height of the injection molding machine and robot.  เพิ่มเติม…
---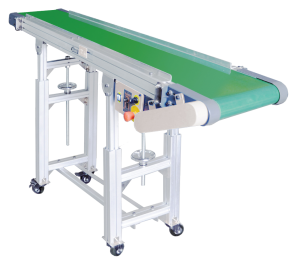 series inclined belt conveyor is mainly used for transporting the products, can effectively enhance the work efficiency, protect the products appearance, can be connected with outside, keep working with automatic machine.  เพิ่มเติม…
---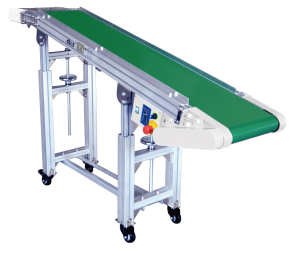 SC series declined belt conveyor is mainly used for the delivery of products, it can effectively enhance the working efficiency and protect the product appearance. It also can be connected with outside signal, and realize automation with adopting of robots.  เพิ่มเติม…
---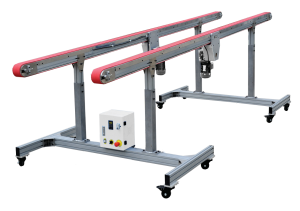 The SCT series conveyor is designed for conveying products removed by robot from injection molding machine. Particularly for large automobile accessories and products. Can effectively improve work efficiency, and protect the appearance of the products. Also can provide full automation when working with robots.  เพิ่มเติม…
---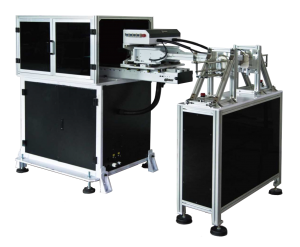 The SBI series robot is designed for automatic labeling of bottle product, single face mold or two faces mold with 1, 2, 4 or 8 cavity. Fully automatic labeling helps improving the production efficiency and the product quality.  เพิ่มเติม…
---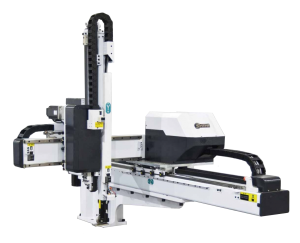 Main application under 280T, selectable to hot runner system, capsule, fast food box and other Thin-walled packing container product pick-out application.  เพิ่มเติม…