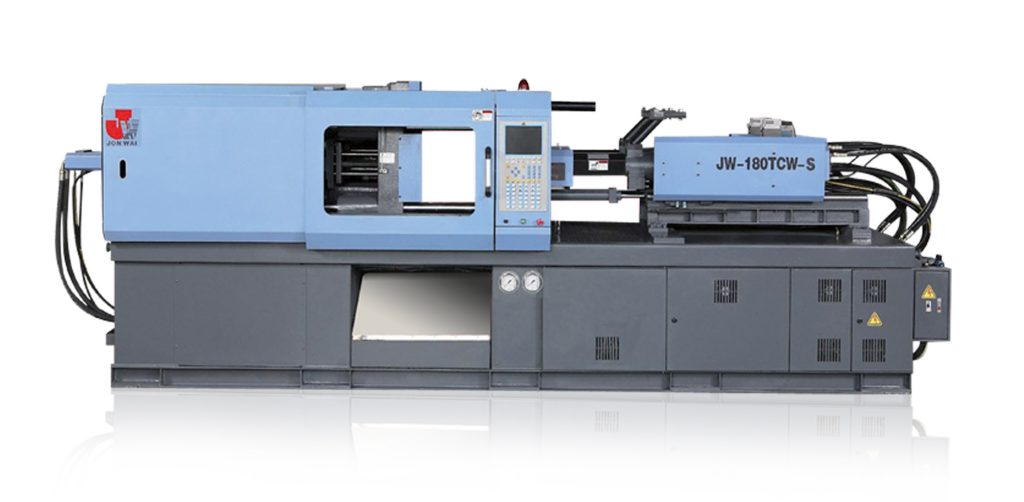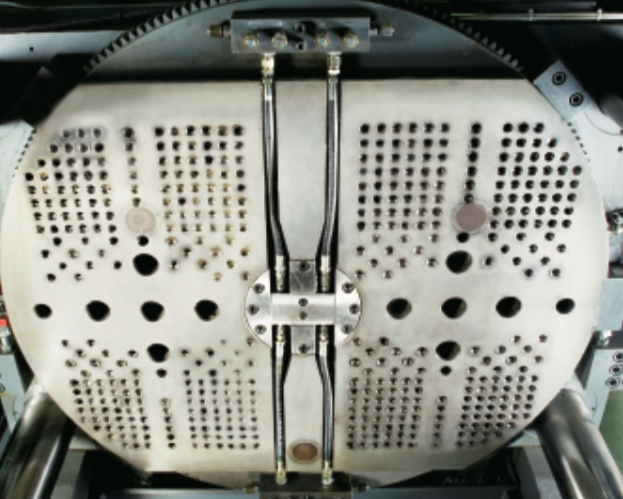 Rotate Platen
The rotating platen rotates the mold with 180 degree within 1 sec. Unique hydraulic rotating system delivers the powerful force and precise control. The strong mechanical design makes the rotating parts strong and durable.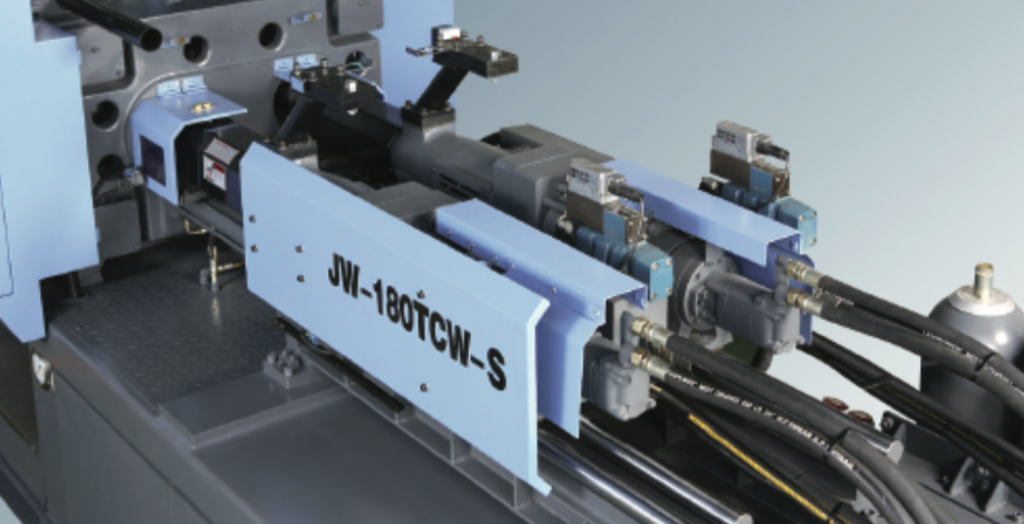 Double Injection Unit
Double screw and barrel design, TCW machine can injection the two different materials with different colors. With the precise shot weight control, it's suitable for medical and autoparts applications.
---
CORE FEATURES
JONWAI – 30 years of Leading Experience in Multi-Resin Molding Technology.
In 1982 , JONWAI introduce the 1st 2-color injection molding machine in Taiwan,
Through decades of R&D in multi-resin injection technology, JONWAI have successfully developed several methods of multi-component injection.
These unique technology afford our customers more diversify either production pattern or product designs.
JONWAI sincerely hope these update multi-resin injection technology could assist our customers.
Preform System Advantages
Low acetaldehyde (A.A) levels for best perform quality.
Fast and precise for high productivity.
Compact to save space for your down stream equipment.
Custom fit to meet your production needs.
Rotary Mechanism
Vertical Rotary table system (standard).
Rotary plate system (optional function).
Rotary mechanism drives by hydraulic motor system, pressure and flow – loop.
2 step pressure and speed control for rotary mechanism.
Mechanical safety position stopper.
Hydraulic safety position cylinder with limit switch.
Rotary speed is lower than 1 second. Based on table diameter 760mm in 180 degree index.
Rotary Location precision: under +/- 0.025mm
Core – Puller sliding 2 color system available (optional function).
Cooling system distribute from the center of rotary table.
Hydraulic system
Bosch high response P/Q system.
Independent proportional back pressure control.
Full time differential hydraulic system for reliable and fast mold open / close.
All fixed pipe and fitting made without welding avoid leakage prevention.
High quality oil seal strengthen the airtightness.
Unique low pressure mold protection feature.
Hydraulic safety device on front / rear door for operator safety.
Fixed – displacement pumps.
Mold Open / Close brake device.
Hydraulic oil filter inside the oil tank for reflux oil.
By – pass reflux filter enlarge hydraulic oil time limit.
Injection pressure / flow closed – loop (Option)
Option
The heat insulation device for movable / stationary platen.
High – mixing screw.
The screw is for engineering material application.
Accumulator device for high speed injection.
Glass type water distributer with on – off switch.
RS232 & RS422 card interface.
Internet or Intranet connect interface and system
4 sets Core puller devices.
Clamping unit feature
Reinforced platen in box structure design by FEA analysis to improve the platen
Strength and durability, and reduce the deformation.
The internal 5 points toggle clamping system through advanced analysis, the structure of toggle is solid and reliability.
Unique toggle pin and bush design reduce the toggle surface pressure.
Superior bush cannelure layout spread out lubricants effectivery.
The design is without using bracket on the rear platen.
Larger tie-bar diameter and pre-hardened steel to be used, with unique screw and nut design to reduce the inner – strength on tie bar thread. Avoid tie bar broken.
Wide movable platen support and unique trail design optimum platen parallelism even the heavy mold.
To minimize the toggle pressure and tie bar stress.
Lower platen deformation and eccentric magnitude to prevent the stress concentration and increase the durability.
Platen and toggle structure, enhance the reliability.
Extra wide platen and tie bar space design.
Optimum platen parallelism.
Injection unit
Parallel and horizontal injection units, easy to operate and maintain, more space saving.
Single injection cylinder design, power direct and stable RPM.
High plasticizing capacity and stable injection pressure to ensure quality molding.
Twn – rail injection seat drive former pulling cylinders*2 to ensure the nozzle centrality.
High – mixing screw ensure material well mixing.
Injection close loop for high precision molding.
Injection accumulator maximum speed to 900mm/second.
Servo motor system, energy saving 35% ~ 80%.
Control system
Three liner transducers for clamping / injection / ejector position control.
Individual and separated setting for injection / holding / charging parameter.
Injection profile for pressure / speed.
Screw RPM display.
Cold start prevention function.
Barrel temperature abnormal protection.
Temperature weekly pr – setting function, can pre – set the preheat time daily.
Oil tank temperature and level monitoring.
90 sets mold memories.
Production quantity and cycle time monitoring.
SPC quality control system.
Multi – language selection.
Alarm message display function.
Troubleshooting record.
LAN interface.
USB interface
Multi – authorize security management system.
10.4 LCD color display.
Data and screen lock function.