Products > LABTECH > Twin Screws Extruders
---
LABTECH – Twin Screws Extruders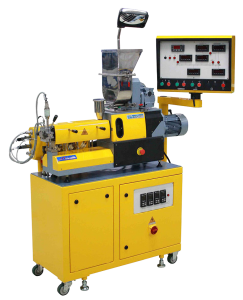 Available with both single and twin-screw hopper feeders, vacuum pump with multiple vent outlets on barrel, twin-screw side feeder, liquid feeders, quick screen changer and a multitude of screw element types and combinations.
– With conventional as well as fully computerized controls featuring our custom made software
Modular co-rotating twin-screw extruders available with clamshall barrels and our unique high tool steel barrel inserts. With screw diameters of 12, 16, 20 and 26 mm and L/D ratios up to 48. Suitable for laboratory, research and small batch productions.
Single and combination screw elements mounted on hexagonal shafts for optimum flexibility of screw configurations.